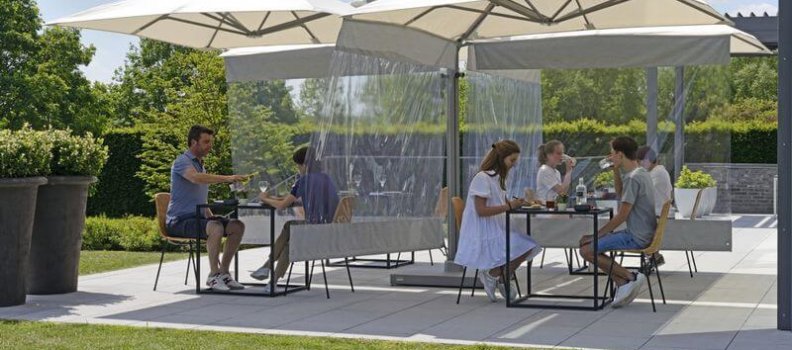 Unfortunately, your restaurants is probably closed at the moment of reading this blogpost, because of COVID-19. It is still uncertain until when, but there will come a time again when you will be able to receive guests. Naturally, as a catering entrepreneur, you would like to receive as many guests as possible in a safe manner, have you ever thought of a winter terrace?
Let it breeze
After research led by Li Yuguo from the University of Hong Kong, we can say that the transmission of respiratory infections is an indoor phenomenon. The virus spreads less outside; it can blow away and there is sunlight with UV radiation that inactivates the virus. But according to professor of Clinical Virology, Louis Kroes (LUMC), we should always pay attention: not all "outsides" are the same. This is precisely why the national government is drawing up guidelines for a winter terrace. The terrace must be open on at least 3 sides in order to create sufficient draft.
1.5 metres distance
An open door, which we cannot just shut in this article. For now, distance is a crucial aspect in the arrangement of your tables and chairs. We are happy to think along with you about an optimal set-up, our advisor will be happy to help you use the available terrace space as efficiently as possible without obligation.
COVID screens from Prostor
The national government indicates that it is authorised to place so-called cough screens on outdoor terraces. For guests and staff who are on either side of the screen, there is no rule to keep 1.5 metres distance. For the Prostor products, these screens are available from stock. The walls are partly transparent and can be attached to the zippers of your parasol that are normally intended for zipping the rain gutters.
Bistro setup
If you are not using screens, you are forced to maintain 1.5 metres between the tables. You can choose to use a smaller parasol per table. The Sublimo Pro (made in 200×200 cm) can be a good solution here. Sublimo is also available in a round-shape with a diameter of 300 cm. This model opens and closes above the surface of the table, allowing tables and chairs to remain in place while setting up your patio. Another suitable option is Solero's Teatro Pro. This parasol is easily operated by a winch, which allows you to open and close the parasol within seconds. Teatro is a welcome guest on terraces, combining ease of use with a beautiful design.
Terrace arrangement
For a calmer whole, a giant parasol of 500×500 cm is a nice solution. The Solero Basto is available in 400x400cm and 500x500cm. This large surface is easy to control. Sometimes style and efficiency go very well together. Even after a few seasons, the large parasol does not lose its colour. The frame consists of a heavy aluminium construction and, if desired, fabric gutters can be attached to protect against rain. The canvases are easy to connect by means of a rain gutter. These gutters link the screens into one large covered whole and ensure that rain always runs out so that you and your guests are dry. We attach the Solero PVC gutters by means of a system with click buckles which are screwed onto the rib. They are available in all lengths in the colours natural, grey, taupe and black. The width of these gutters is a maximum of 60 cm.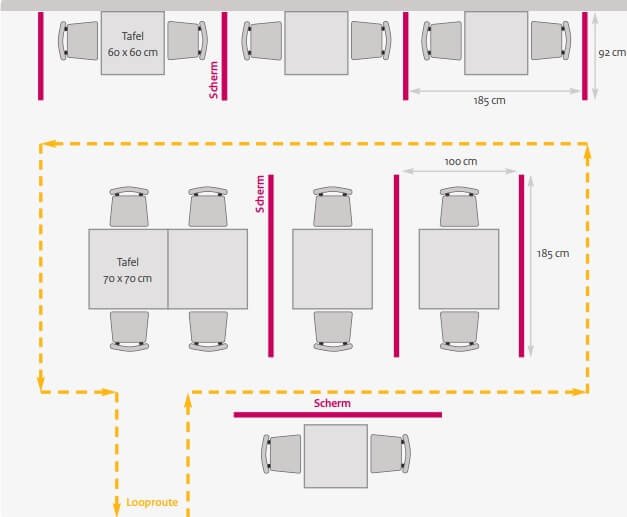 Heaters
With the help of heating and lighting, we can bring back the warmth and light from the sun to the terrace for a little while. Our patio heaters can perfectly be used in the catering section, but they are also available for at home. They create a pleasant atmosphere and are available in different colours. The design is not predominant but looks stylish. A terrace with heaters is inviting and it allows your customer to stay a little longer, even if it cools down outside. In combination with a cup of hot chocolate, the winter terrace feeling is complete.
Have we made you curious about the possibilities and would you like it if we think along with you? Please do not hesitate to contact us. We can provide you with advice either remote or on location.