Those who think that a parasol is only useful against the sun is wrong, did you know that a parasol can also provide light and warmth in the darkness and the cold?
It might not be as obvious, but there are many ways to make your parasol multifunctional and with that make your long summer nights even longer. How about lighting and heating under your parasol?
For every parasol there is a lighting option. For small models we often offer the Solero Accento, they are included for free with the Laterna, Fratello and the Palestro parasol, but also for the Solero Sublimo, Teatro, Patio and Vaticano is this lamp a good addition. The Solero Accento is rechargeable and will stick to around the mast of your parasol, once fully charged the lamp will burn for about 8 hours, after that it will need to recharge its battery to be able to provide you with an atmospheric summer evening.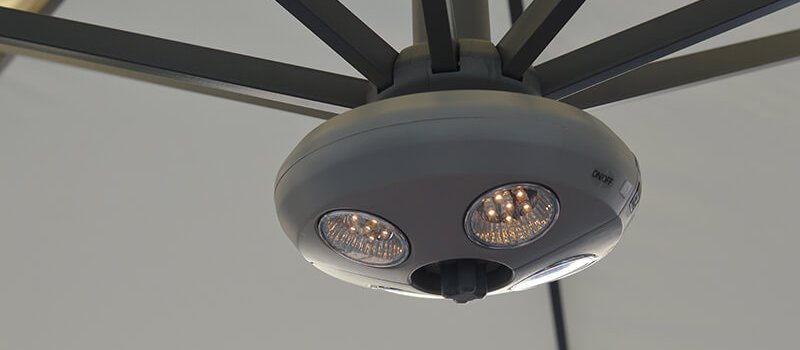 The Accento can be used in two different ways, you can choose to let the light shine downwards, so that you can still read a magazine when it starts to get dark, but for indirect light you can turn the lamp around. This way it shines onto the cloth, making the light less intense. Ideal for an evening in the garden with friends, LED-lighting hasn't been a cold color for years, the Accento truly is a creator of atmosphere.
For the bigger parasol there are different types of lighting available, simply due to the fact that the Solero Accento doesn't fit around the large mast of a commercial parasol.
For these models, two options remain, one which is the V4; the V4 has 4 lamps hang from a ring that is placed around the parasol. Another option is the Solero Ilumina. This is a new type of LED-lighting where strips are adhered in the parasol, this lighting is, like the Accento, cordless and is a real addition to your terrace. The Solero Ilumina parasol lighting is delivered with a battery which you can hang in the parasol using Velcro. When closing the parasol, you only need to remove the battery before closing the parasol.
Do you want to enjoy the summer in the heat, even after the sun has gone down? Then the
Solero heaters
are right for you. There are models which you can attach to the parasol itself, or modes which you can, for example, attach to a fence, it's all up to you!
A Solero parasol is a good host for parties or barbecues, to make de evening even more summery you can easily decorate your Solero parasol with garlands or lights, which are easily secured to the many ribs of the parasol, and they make your terrace even more festive.
We hope that these tips will make your summer even sunnier.